---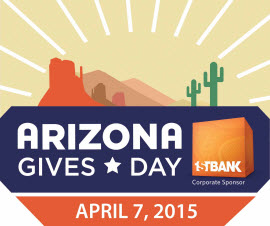 The good news is that more and more people are out there pulling buffelgrass!
The bad news is that it is still growing faster than we can pull.
We need your help!
Thank you everyone who goes out and pulls buffelgrass on your own land or the public land or comes out for Beat Back Buffelgrass Day. It is making a difference. To sustain the effort, we need to ask you for some cold hard cash.
On April 7th, 2015 the Alliance for Arizona Non-profits is sponsoring Arizona Gives Day. Hundreds of nonprofits across Arizona are participating. SABCC would love to be included in your giving for the day. It doesn't take much. In addition to the donation dollars we receive, there is a competition for number of dollars as well as number of donors. Please give what you can to show your support! But you don't need to wait until the 7th. You can start donating now!
Beat Back Buffelgrass Day 2015 was a Success
SABCC would like to thank everyone for another great BBBGD, without your support and volunteer hours BBBGD wouldn't be possible.
Click here for the event listing, Statistics and Sponsors
Click here for the event listing, Statistics and Sponsors
Our Buffel Busters Activity Booklet and Identification Guide is here! This bilingual booklet is geared to 3rd and 4th Graders and tied to Arizona Department of Education Standards.

We're so excited to welcome this educational piece to our buffelgrass outreach team! Do you work with youth? Hard copy booklets are free to educators, email outreach@buffelgrass.org for more info. You can also download the booklet from the pdf below.
This booklet was produced with grant funding from Arizona State Forestry and U.S. Department of Agriculture.
"In accordance with Federal law and U.S. Department of Agriculture policy, this institution is prohibited from discriminating on the basis of race, color, national origin, sex, age, or disability. (Not all prohibited basis apply to all programs.)

To file a complaint of discrimination, write USDA, director, Office of Civil Rights, Room 326-W, Whitten Building, 1400 Independence Avenue, SW, Washington, DC 20250-9410 or call (202) 720- 5964 (voice and TDD). USDA is an equal opportunity provider and employer."
Buffelgrass! The Epic from Daniel Bell on Vimeo
For subtitles in Spanish click on the "CC" and then click on "Español"
Para los subtítulos en Español haga clic en el "CC" y luego haga clic en "Español"
Welcome to the Buffelgrass Patch
We now have a mobile app to map buffelgrass! In addition to mapping buffelgrass on our website, you can download our app. (Instructions) Try it on your phone.
---
High-quality, High-resolution pictures of buffelgrass at various life stages and various settings

Key characteristics for identifying buffelgrass

Hard copy is water-resistant and tear-resistant

PDF looks great on smart phones!
Buffelgrass on TV! Van Nguyen from the UA MPASA program volunteered with us for our recent Days of Caring Buffelgrass Removal Event in the Sunnyside Neighborhood. Van put together this short piece which aired on KVOA recently. There wasn't time to mention SABCC or Tucson Clean and Beautiful by name but we're still proud of it.
Thanks to Van and all our other hardworking volunteers!
The Southwest Fire Science Consortium has produced a 11 minute video of the work that SABCC is doing.
Read the article here
Why we are so focused on Buffelgrass in Southern Arizona - take a few minutes to view this short film.
"Buffelgrass and the fire it brings are poised to destroy our Sonoran Desert ecosystems and threaten public safety, possibly more effectively and faster than drought, development, or almost any other potential disaster." - Southern Arizona resident
Buffelgrass Invasion: Its Threat to the Sonoran Desert and Our Will to Stop It

Produced by: Mark Betancourt

Major Funding Provided by: Arizona-Sonora Desert Museum; Pima County Natural Resources, Parks & Recreation; Tohono O'odham Nation; National Park Service; Southern Arizona Native Plant Society; USDA-Forest Service; U.S. Geological Survey; Sandy Lanham; and Environmental Flying Services